Yếu tố chính của một dự án Odoo thành công
01. Responsibilities Performed
​

Project management

:

By Onnet Consulting. The top priority is to ensure the project is always on schedule with the most optimal budget.

Customers need to identify their business needs (Answering the "Why" and "What" questions). Then, the solution to meet these needs is determined by the way the product is used through us - Onnet Consulting (Answering "How").
With the main product of Odoo implementation consulting service and related solutions, all customers' interests are always the top priority and worth the cost.
02. The process is optimized
Procedures and documents are quick, convenient and accurate.

Decision making is a top priority.

Limited customization or development of specific features.

Effective remote-working plan, Just Onsite if needed (Training, Changing in management plans, etc.).
03. The project manager
A project manager is the key of success when deloying any projects. Onnet aims to focus on training talents experienced on project management. Moreover, top experts from Onnet Consulting, even if they are not in charge of any projects, can review and support the work of project managers at key steps (available in deployment packages).
---
Quy trình triển khai Odoo
Onnet provides basic solutions that covers all business flows and 80% of the features expected in a few weeks and does not last up to a month.

Sales - Business Consulting
Qualification; Budget proposals; ROI & GAP Analysis; Project kick-off


Project -Implementation
Design; Validation, Training, etc.; Go Live
Support
Functional & Technical supports​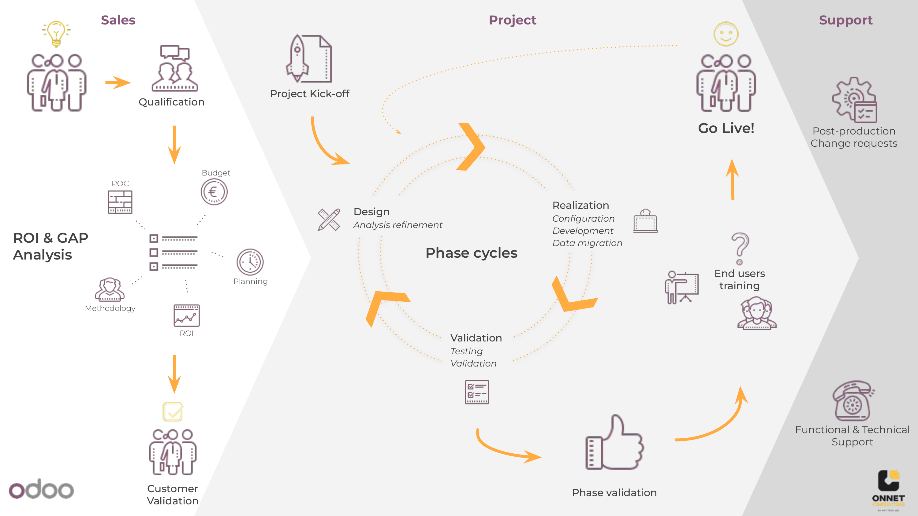 Details Odoo project implementation process according to Onnet implementation methodology

Bảng giá các gói triển khai Odoo
Onnet's Success Pack ensures that the implementation of your Odoo project delivers the expected benefits as planned and within budget.